Regular price
$1,195.00 USD
Regular price
Sale price
$1,195.00 USD
Unit price
per
Sale
Sold out
Please Note: If you are purchasing for someone other than yourself, please add each attendee name and email address to the Notes field at checkout.
Current Promotion:  Subscribe to our mailing list (at bottom of page) to receive a promotion code (AIRS_25) for a 25% discount on your purchase.
In today's constantly evolving job market and with the internet's vast resources, it's crucial to know effective sourcing techniques to identify the most qualified candidates and information. SearchLab was created to help participants improve their internet research and sourcing skills to succeed in their roles. 
The course will help attendees understand search engines and the principles of Boolean logic. Participants will explore advanced search commands and the importance of investigative sourcing. The class also includes leading-edge concepts such as using generative AI to discover resources and creating programmable search engines. Additionally, participants will be able to gain practical experience in specialized search methods such as PowerSearch and Xray.
*All attendees will have access to both the CIR and ACIR exams as part of their SearchLab purchase.
Share
View full details
The AIRS Flagship course
The course that started it all is now jam-packed with over 10 hours of sourcing expertise as well as access to both CIR and ACIR certifications. Also included to help you certify and get the most from your training are: 
CIR and ACIR Certification Access
Course materials and handouts
Practice Quizzes
Instructor Office Hours
Certification Badging
The Industry Standard.
AIRS Certification is the most widely known recruitment certification in the industry, and for good reason! With SearchLab: Advanced Internet Recruitment Strategies, you'll gain access to both the CIR and ACIR certification exams.
AIRS Certifications are valid for two full years at which point you can login to your MyAIRS account and retake the assessment to certify for another two years. For Free!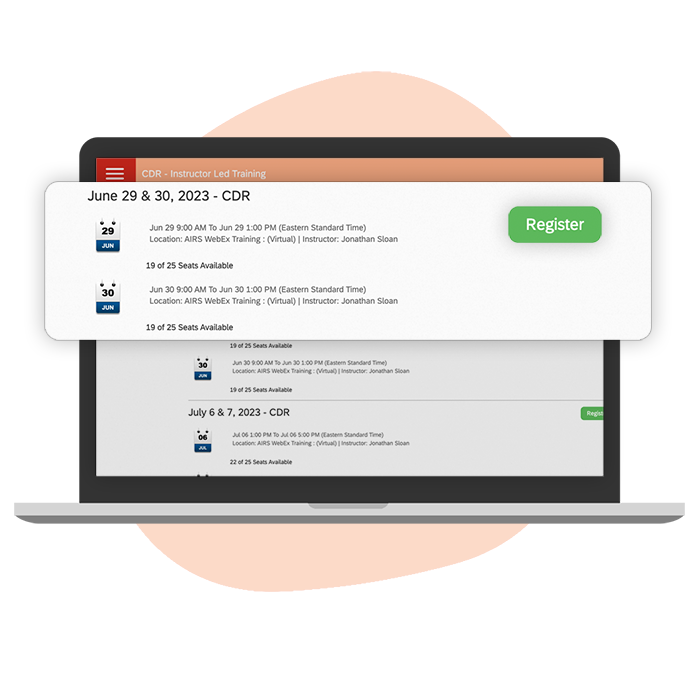 At Your Convenience
AIRS Certifications sessions are offered at various times every week.
After checking out, you will be sent an email with a link to login to the MyAIRS portal. Upon login, you can register for specific training sessions as well reschedule when necessary.
Additional Details
Recertification

AIRS certifications are valid for two years at which point you can recertify for free! Simply login to your MyAIRS account and complete the certification exam to extend your certification for another two years.
Continuing Education Credits
Refund Policy

All training reservations are non-refundable.

While cancellations are not accepted, requests for rescheduling your selected training will be accepted up to 5 business days prior to the event. Unfortunately, we cannot accept rescheduling requests after that time. All AIRS Training purchases will be valid for attendance for a period of one year from purchase date.

If you need to reschedule, login to your MyAIRS learning portal and navigate to your scheduled sessions.  To do so click Live Sessions > # Registered > Learn More.  From there you can un-register from your current date and select a new one.  If you have any questions, please reach out to cs_AIRS@adp.com.